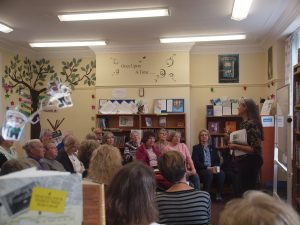 As a qualified teacher of adults, I have given talks and run courses and workshops on family history and house history research at all levels from beginners to post-graduate locally, nationally and online.
These include at Bury St. Edmunds Record Office, The Genealogy Show at the NEC, the Family Tree Live show; the Who Do You Think You Are? Live show; The Family History Shows; the Society of Genealogists; Adult Education services; a two year post-graduate course at the University of East Anglia; Heritage Open Days; the National Writers' Centre; the National Centre for Writing; the Families in British India Society (FIBIS); the Guild of One Name Studies, the Society for One Place Studies; the National Trust; Deepings Literary Festival and numerous family and local history societies, museums and libraries.
I played a key role in developing the genealogy certificate programme offered by an online course provider, and taught for them for ten years. Many of my courses are attended by librarians, record office staff and people aiming to set up as professional researchers. In the past I also taught adults on Access, A Level, GCSE and NVQ courses in history and humanities related subjects through the Adult Education and HM Prison Services. Whilst working for the latter I received Home Office security clearance. I have also been a visiting lecturer on archival research for the MA in Biography and Creative Non Fiction at UEA.
Courses and talks calendar
Talk Topics
I am recording some of my talks to make available online, if you would be interested in hearing one of them please drop me an email to say which one you would like me to record first. Below are the titles of the classroom talks I have delivered, click on each one to find out more about its content.
Comments from some of my clients
"Thank you for your Poor Law course Gill. I have found it to be totally professionally run (I'm a bit of a critic of training programs, can't help myself). I shall be doing some more courses, this has been my third, and I like the discipline of assessments."
Margaret Moxon. Australia
"Having attended one of Gill's 'further steps' family history courses, I was most impressed with her thorough knowledge of the subject and preparation before each class and her encouragement during those classes to explore every aspect of our research. I know we all eagerly looked forward to her classes each week."
Alison Brown. North Norfolk
"I have very much enjoyed classes that I have attended. They were relaxed, enjoyable and very informative, with each session being flexible enough to provide for the needs of that group."
Sandra Hopewell. South Norfolk
"I attended classes at The Family History Centre, where Gill Blanchard was the tutor, her knowledge and experience of family history shone through, along with an enthusiasm which was infectious, it helped me to get involved, researching and thoroughly enjoying (probably forever) this fascinating subject."
Phyll Clements, Norfolk
"I have been on two courses run by Gill, one online and one in a more traditional classroom setting. The online course relating to the Poor and the Poor Law in the 19th Century, was thorough in content and expertise. In true teacher fashion Gill leads her students towards the answers, while ensuring they experience the research process and reach their own conclusions. The more traditional post-graduate course was equally thorough and professional. Gill is an excellent teacher who is generous with her support, advice and expertise. Any course run by her will guarantee an enjoyable experience and will effectively develop your own skills. If you see one advertised, don't hesitate but sign up immediately before all the places are gone."
Liz Rastrick, Suffolk
"Gill is a wonderful teacher – anyone interested in past times, their ancestry and local history can't do better than take advantage of her wide knowledge and enthusiasm."
Roger Polhill, Norfolk