Writing by Gill Blanchard
Struggle and Suffrage in Norwich: Women's Lives and the Fight for Equality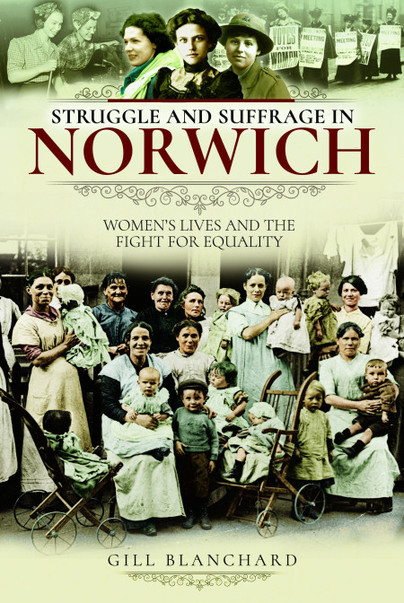 This book focuses on how there was more to women's history than just the suffrage campaign and women's war work by looking at the broader context of women's achievements. The book is divided into themes looking at education, work, marriage, relationships, health and maternity, poverty and housing, and the involvement of women in political parties and campaigns for social and legal reforms, including the right to vote.
It explores these themes through the lives of both the well-known and women who rarely, if ever, make the history books. The stories of Norwich women such as Mabel Clarkson, the first female sheriff in England, and one of the first women councillors and Lady Lord Mayor; and Dorothy Jewson, the first female MP in Norwich and East Anglia, provide the backdrop to the history of campaigns against poverty and women's right to vote.
Drawing on published and unpublished material held in the record office and heritage centre, the National Archives, museums and private collections, this book explores the lives of individual women to chart transformational changes in society at large, and Norwich in particular. These social, political and legal changes can be traced through the lives of divorcee Elizabeth Gurney; suffragette Miriam Pratt; nurse Philippa Flowerday, blacksmith Elizabeth Sabberton; economist and writer Harriet Martineau and abolitionist and writer Amelia Opie, and numerous schoolteachers, clerks, tradeswomen, weavers, WWI munitionettes and more. The book is available from Amazon both in paperback and on Kindle.
Writing Your Family History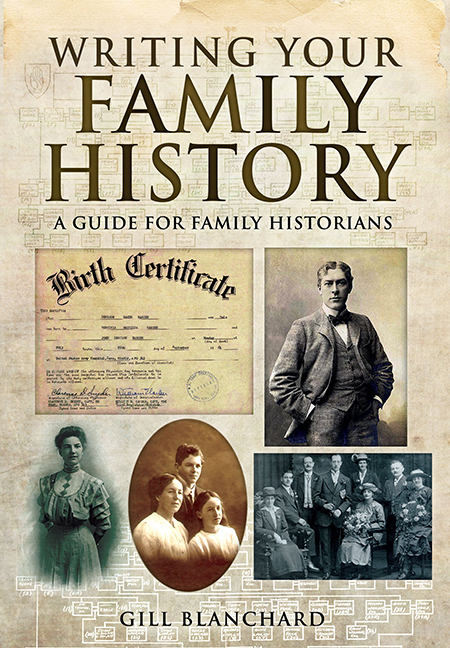 Gill Blanchard's practical step-by-step guide to writing a family history is designed for anyone who wants to bring their ancestors' stories to life. She looks at ways of overcoming the particular problems family historians face when writing a family history — how to deal with gaps in knowledge, how to describe generations of people who did the same jobs or lived in the same area, how to cover the numerous births, marriages and deaths that occur, and when to stop researching and start writing.
Her book provides examples to help readers find their own writing style, deal with family stories, missing pieces of information and anomalies. It also offers advice on key aspects of composition, such as adding local and social history context and using secondary material. The focus throughout is on how to develop a story from beginning to end.
Exercises are a key feature of the text. There is guidance on the various formats a family history can take and how to choose the appropriate one, with examples of format and layout. Production and publishing are also covered — books, booklets, newsletters, websites, blogs and ebooks. The book is available from Amazon both in paperback and on Kindle.
Tracing Your Ancestors: Cambridgeshire, Essex, Norfolk and Suffolk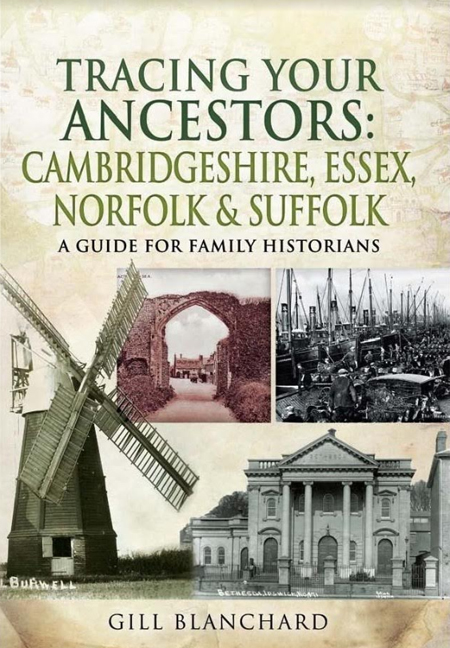 Gill Blanchard's practical and informative handbook will help you to trace your ancestors in the traditional counties of East Anglia – Norfolk, Suffolk, Cambridgeshire and Essex – and it will give you a fascinating insight into their lives.
As well as guiding the researcher to historical records held in all the relevant archives, she explores the wealth of other resources that add the 'flesh to the bones' of our ancestors' lives. She describes how fascinating information can be discovered about the places they lived in and the important historical events they lived through, and she traces the life stories of notable people from all backgrounds who shaped the region's development over the centuries.
Her account highlights East Anglia's diversity but also focuses on its common features and its strong sense of identity. She starts with a general introduction to its history and geography, then goes on to focus on different aspects of its rich past. In the process she illustrates a wide array of additional research resources that will be revealing for readers who want to find out more about all aspects of life in this area of England. Note this book was originally titled Tracing Your East Anglian Ancestors and some booksellers still have it in stock under this title. The book is available from Amazon both in paperback and on Kindle.
Tracing Your House History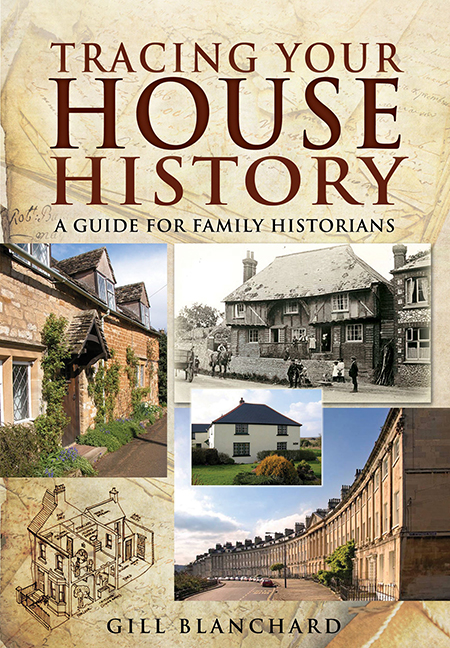 Anyone who wants to find out about the history of their house – of their home – needs to read this compact, practical handbook. Whether you live in a manor house or on a planned estate, in a labourer's cottage, a tied house, a Victorian terrace, a twentieth-century council house or a converted warehouse – this is the book for you. In a series of concise, information-filled chapters, Gill Blanchard shows you how to trace the history of your house or flat, how to gain an insight into the lives of the people who lived in it before you, and how to fit it into the wider history of your neighbourhood.
A wealth of historical evidence is available in libraries, archives and record offices, in books and online, and this is the ideal introduction to it. Gill Blanchard explores these resources in depth, explains their significance and directs the researcher to the most relevant, and revealing, aspects of them. She makes the research process understandable, accessible and fun, and in the process she demystifies the sometimes obscure language and layout of the documents that researchers will come up against. The book is available from Amazon both in paperback and on Kindle.
Lawson Lies Still in the Thames: The Extraordinary Life of Vice-Admiral Sir John Lawson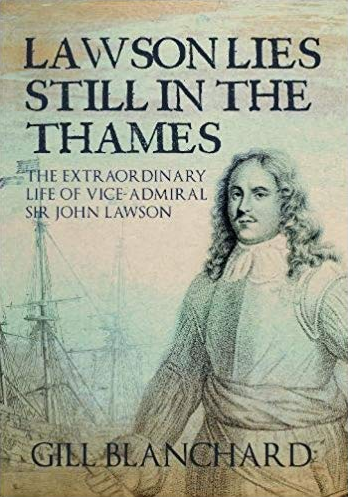 At the beginning of his diary, on 1st January 1660, Samuel Pepys noted that 'Lawson lies still in the River'. A mere two weeks before, amid rioting in the streets of London and with Parliament under the control of the army, Vice‑Admiral John Lawson had taken a fleet of twenty-two warships into the Thames and, in defence of Parliament, blockaded the city.
Despite being a staunch republican, Lawson would later aid the Restoration of Charles II, and died from wounds received in battle during the Second Anglo-Dutch War in 1665.
This biography charts the tumultuous life and times of an ordinary seaman born in Scarborough who would come to play a major role in the English Civil War, the Restoration, the Anglo-Dutch Wars and the start of the transformation of England into a global political and economic power in the seventeenth century. The book is available from Amazon both in paperback and on Kindle.
I Therefore Post Him as a Coward: An anatomy of a Norfolk scandal, 1836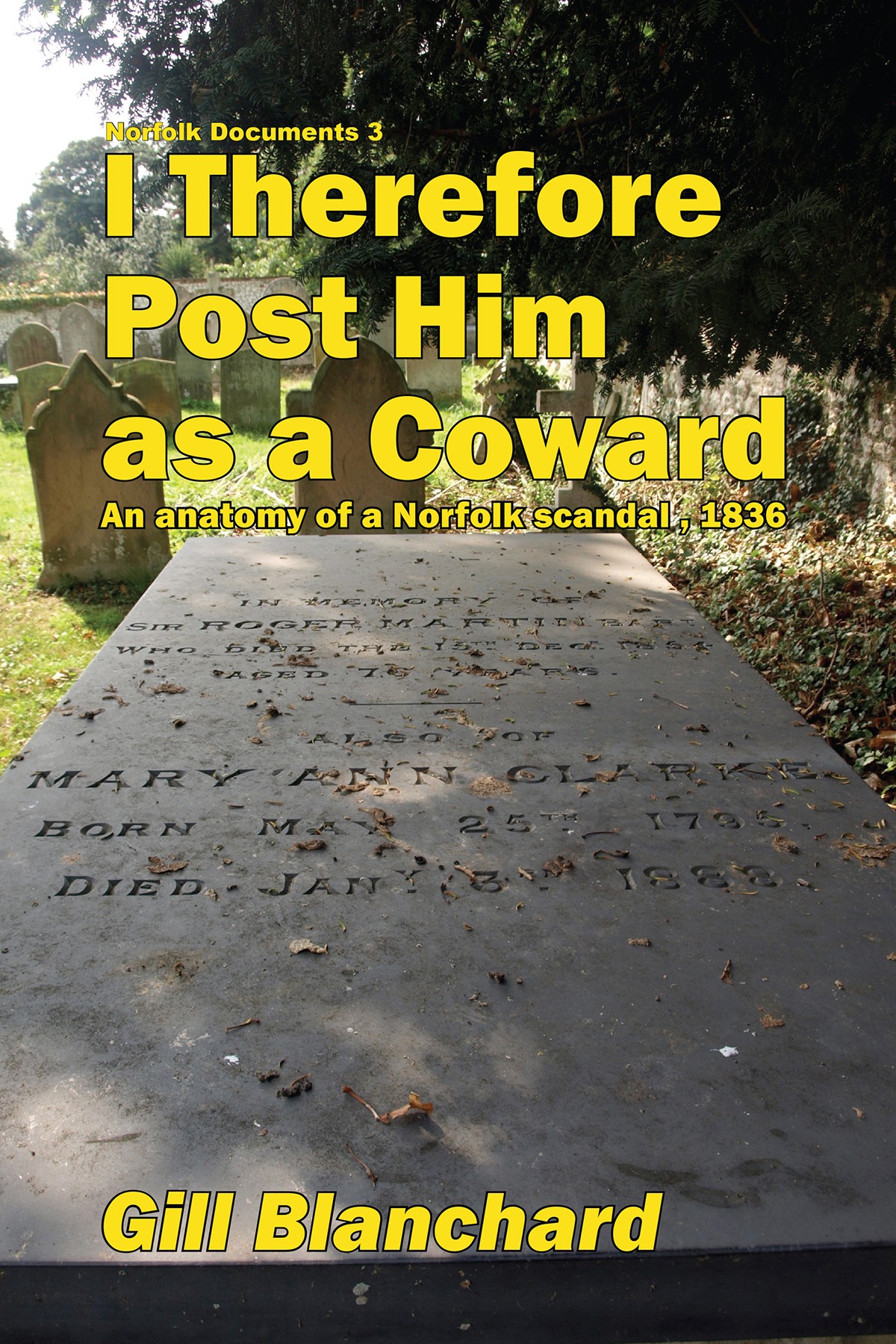 A show-down between a knight and a clergyman and a challenge to a dual occurred in the Norfolk town of Burnham Westgate in July 1836 which shines a light on the social mores of the time. The demand by the curate, Henry Blyth, that the Lord of the Manor Sir Roger Martin should refrain from appearing in the parish church with his housekeeper Mary Anne Clarke, was played out in a series of public handbills between the protagonists.
The documents of this very public correspondence are now deposited in the Norfolk Record Office. Historian and researcher Gill Blanchard came across the reference to the demand for a 'hostile meeting', a clear request for an officially banned duel, while she was in the process of researching the history of a number of houses in the village and her meticulous research uncovers an intriguing tale of moral judgement, local hypocrisy and overt scandal. The book is available from Amazon in paperback.
Some of my published articles:
Burial and Cemetery Records.
Focus On Churchwardens' Accounts.
Focus On The Land Registry Digital Archive
Focus On Wills.
Gill uncovers the secret life of our homes.
Guest Blog on Five Strategies to Inspire Relatives to Share Family Stories.
How to find Wills.
Lesser Known Sources for Researching Norfolk Ancestry
Parish Census Returns.
Parish Poor Law Records.
Researching the Extraordinary Life of Vice-Admiral Sir John Lawson through the journals of Samuel Pepys.
Searching Locally for Your Norfolk Ancestry.
Servants Wages Books.
Smallpox and Vaccination Records in England and Wales.
Spotlight on Norfolk.
Top Tips for Writing and Publishing a Family History
Tracing a House History.
Tracing Your House History.
Tracing Your House History: A three part series
Using Trade Directories and Gazetteers in Family History.
Vaccination Records
Workhouse Records.
Writing a Family History: A three part series.
Expert answers to family history problems in national magazines:
A 1559 Marriage.
A centenarian.
A missing Suffolk ancestor.
A strange parish register entry.
Did my ancestor migrate abroad?
House history and census returns.
Illegitimacy and Essex resources
Missing 40 Years.
Plasterers and working life and conditions.
Teachers records.
Contributions to articles, blogs and news items on:
Best Websites for Researching a House History.
Best Websites for Researching Agricultural and Rural Workers .
Breaking Down Brick Walls.
Create a Starting Point: Guest Blog on Five Strategies to Inspire Relatives to Share Family Stories.
Death Records. In: Break Down 10 of your Family History Brickwalls.
The West Yorkshire Tax Valuation collection on Ancestry.
Top Tips for Using Record Offices.
Writing Tips.
I am also a reviewer of other authors works, including for the British Association of Local History.